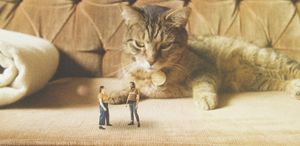 THE STORY
It was in the fall, or spring, but it was definitely not the winter or summer of 2018. I remember of a lot of rocky outcrops coming into view, Kaitlin sleeping in the passenger seat, a perpetually broken car radio, and I got to thinking about a coffee table book I'd borrowed from her grandparents – a never-before-opened tome from the 70s called The Drama of the Universe. Billions of years of universal history dorkily divided into the acts of an opera.
A song idea began percolating and the line 'the atoms of the apartment' popped into my head. It became a kind of mantra for writing at the wheel, and plain old staying awake at the wheel. From there, the thought of the atoms making up our apartment, with all they'd been and seen, were yet to be or see, took root.
An upbeat, nerdy love song to our apartment born of a time when our feline friend, Sully, was still among us and we hadn't yet become quite so pandemically acquainted with our 700 odd square feet, Atoms of the Apartment is a colourful ode to the quirks (and quarks) of home.
— Alex
THE LYRICS
The atoms of the apartment
Are from 1952
And 10 billion years before then
In some star we never knew 
The atoms of the apartment
Linking arms and looking on
At one cat and two humans
Parachutin' in, then they're gone
And the writing, and the wall
And the author all recall
We all, all are one
We're just having different kinds of fun  
The atoms of the apartment
Giving us a wink on the sly
Like we'll see each other
In another sun by and by 
The atoms of the apartment
The heavens in the hall
Two sides of a teeter-totter
The listener and the call 
And the writing, and the wall
And the author all recall
The bond, 'n the band, unseen
The strings vibrating in between, we all say
We all, all are one
We're just having different kinds of fun
Different kinds of fun  
Dear atoms of the apartment
Would you like to take our place?
You could start a string band
Play some songs we'd appreciate  
And the writing, and the wall
And the author all recall
The bond, 'n the band, unseen
The strings vibrating in between, we all say
We all, all are one
We're just having different kinds of fun
We all, all are one
We're just having different kinds of fun
Different kinds of fun