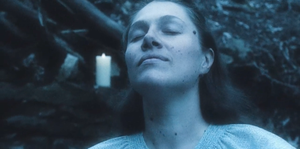 THE STORY
I don't know about you, but I feel less alone when I look at the moon. We partake of the common when we look out at her, for she is, among other things, a receiver of common questions, a giver of common comforts. 
To gaze upon the moon fills my cup with reassurance, with wonder, with magic. I feel a fine thread of connection across time and space with all who gaze also. Moon Cradle is my effort to paint with words a few moments where I have felt this thread keenly. 
This project has been cradled by many hands and hearts. It is truly a collective work. It belongs to a common space, so now it is yours, too. 
 — Kait
THE LYRICS
Some nights Moon bends low 
To keep me company 
Swells as she reaches near 
And I am filled with such a feeling 
Such a sure feeling 
That she's seen me before 
That her eyes and her hands and her heart 
All know the medicine I came for 
She eases all my fever dreams 
With the nearness of her heart 
As though its steady rhythm 
My dreaming body knows 
Gave me my earthly start 
She's young and old and all at once 
She sheds the sun's own glow 
To span that magic waking time 
When moonshine grows to light 
In the dawning hour 
When the ghosts come 
I sing for 
A moon cradle, a moon cradle 
Her hands they tremble 
But they hold the lines 
Constantly unfolding 
Carry me safe knowing 
She's bent these knees before 
She lives within my body still 
Her wrinkles are mine 
And I belong to that time before 
I was a twinkle, in the twinkle, in her eye 
Some nights Moon bends low 
To keep me company 
Swells as she reaches near 
And I am filled with such a feeling 
Such a sure feeling 
That she's seen me before 
That her eyes and her hands and her heart 
All know the medicine I came for 
That her eyes and her hands and her heart 
All know the medicine I came for