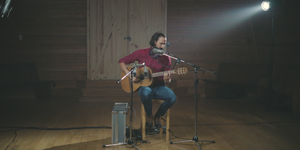 THE STORY
Time Past Time is a heart on a sleeve asking a simple question about what matters most. Recorded live – in a hay loft on a drizzly April morning at Luskville, QC's Venturing Hills Concert Studio – Alex Millaire's solo voice and classical guitar are raw and lonely, but hopeful. 
The conversational tone and gentle meter of Moonfruits' Time Past Time bely a cutting critique of the robber barons who waltzed their way into billionaire and trillionaire-hood during the pandemic, but also of the narratives we all weave to justify, and even celebrate, their existence. 
Grappling with immense wealth inequality is a bit like grappling with climate change. Once you have a sense of how rotten the timbers are and how big the house is, the numbness of inevitability starts creeping in. Time Past Time is one attempt to shake that feeling.
THE LYRICS
Generous days
Frightening days
In equal measure
In the blessed home
Terrible days
Killer days
Without an answer
Standing alone 
And the birds still sing
Yes, they do
And the kids still bring that smile to our lips
The way they do 
Please don't go on spinning
Like a spinning plate
All the pretty speeches are made
In this time past time 
Laugh it off all you like
Wring your hands a thousand times
Our new house guest
Dons a crown
And levels us all
With slippers and a gown
A messenger called
No surprise
You were around 
And the coffee's still sweet
Yes, it is
And we can walk in the middle of street
'Tween clenched fists
Please don't go on spinning
Like a spinning plate
The moment is dying at the gate
In this time past time 
And you're spinning it into gold
You're spinning it into gold
Spinning it into
Nothing to hold
In this time past time

Time
It takes time, it takes time, it takes time
First letting it go
It takes time, it takes time, it takes time
Then healing your soul
It takes time, it takes time, it takes time
Then watching it grow, beyond the bounds
Of the mouth that told yourself
It won't change me
Just everybody else in this time past time 
And you're spinning it into gold
You're spinning it into gold
Spinning it into
Nothing to hold
In this time past time
Time, it takes time, it takes
Not days or weeks or months
But a lifetime divine
Time can make you change your mind
Time might make you reconsider
What is really on the line
Time can make you plainly see
A force that's so much greater
Than any you and me
Any you and me
Any you and me

So stop spinning it into gold
You're spinning it into gold
Spinning it into
Nothing to hold
In this time past time
In this time past time
In this time past time